HairMax Salon Software Benefits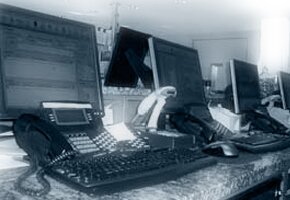 The first question to ask yourself is "What's in it for me". Heres TEN powerful reasons why HairMax Salon Software will benefit YOU and your business…
"You Will Dramatically Improve Client Retention!"
The HairMax software is designed to give you the best information available when it comes to retaining your clients. It contains a phenomenal client retention report that will breakdown who is losing clients, why they are losing them and where you should focus your efforts on making improvements.
"Your Clients Are In And Out Quicker With More Efficiency"
We all know clients like to check in and out as fast as possible. HairMax does this better than anyone else with its state-of-the-art check in/check out feature. We get them out fast but always with an eye on always trying to get them back to your salon thru easy appointment rebooking.
"You Have Control Of Your Inventory"
Our inventory system was designed for salons in shopping malls that have thousands of products. There is no better system on the market today in terms of ordering, receiving, & tracking inventory. This is true for both retail products and salon-use products as well.
"You Will Quickly & Easily Communicate With Your Clients"
HairMax has marketing systems built right into the software that allow you to attract first-time clients & inactive clients. We allow you to sort your client list on hundreds of criteria because we know that salons may want to target very specific clients when doing new promotions.
"Increase Your Gift Card Sales Simply And With No Real Cost"
HairMax tracks gift cards through your computer so there is no need for expensive equipment. Simply buy your gift cards and you are ready to go..there are no transaction fees, equipment leases, or problems associated with separate gift card terminals.
"Your Payroll Is Done Quickly Without Any Hassles"
You simply setup how each employee gets paid and HairMax will print out a report each week that tells you exactly what to pay them. It even has a time clock built into the software for hourly employees like receptionists.
"You'll Virtually Eliminate Mistakes And Errors With Sales And Balance At The End Of Night In Seconds"
Because we have taken almost all of the potential error causing aspects of cashing out clients out of the hands of the employees, it is almost impossible to make an error in HairMax. Even if you do…it is super easy to fix the error thru innovative log reports.
"You Will Balance Your Cash Drawer At The End Of The Night Within Seconds"
Everyone wants to leave when the salon is closed, right? With HairMax, simply count your drawer and you are on your way. You can also balance multiple time during the day if you wish.
"You Will Save Time, Time and More Time"
We all know that the most precious commodity we all have is time. HairMax will give more free time because you won't be wasting it trying to accomplish what HairMax gives you each and everyday effortlessly.
"You'll Book Appointments More Efficiently, With Less Mistakes, And Improve Stylist Productivity"
HairMax can book appointments five unique ways. It can confirm appointments thru email and automatically prompt receptionists when clients want to be called for cancellations. You also have all the flexibility of squeezing in appointments and changing times for clients or stylists.